Get Orders Where They Need To Go With Hassle-Free Online Order Fulfillment
Count on Wolff/SMG for the exceptional quality & consistent performance that comes from 40+ years of fulfillment experience.
Clients including Billboard Magazine, National Audubon Society, National Wildlife Federation, and U.S. News & World Report rely on our full-service, all-under-one-roof online order fulfillment capabilities. See how we can transform your product fulfillment operations.
Direct Response / As Seen on TV
Customer Service Representatives
Efficient & Cost-Effective Mail Service
We're a certified USPS Business Alliance Partner, which gives us a "direct line" to the postal service and provides significant cost-saving opportunities for you. We offer addressing, insertion, pre-sorting, tracking and more, for streamlined delivery to domestic and international destinations.
The Wolff/SMG Difference
Operational Advantages: As a USPS Business Alliance Partner, we receive early notices of upcoming regulation changes & rate adjustments, 24-hour turnaround on classification rulings or questions, access to address any issues or concerns, and more
Pre-Sort Software: The high volume of mail that we move gives us access to powerful software that greatly reduces the time it takes to get shipments in the mail and provides significant postal service discounts to our customers
Commingling Expertise: We're adept at combining multiple mail streams into one larger stream, thereby obtaining maximum postage discounts for all clients in the stream; commingling also gets your mail injected directly into the mail service from our warehouse—and to its destination more quickly
Expedited Acceptance: As a USPS location, and with a USPS clerk in our building, we get your shipment directly from inventory immediately into the postal system, right from our docks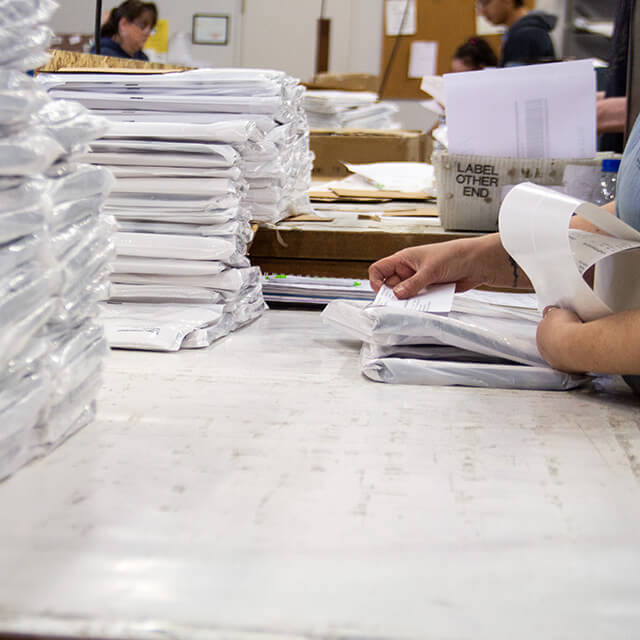 Wolff/SMG has the expertise, access and technology that helps our clients do more for less.
Contact us today to see what we can do for you.
Prompt Packing & Delivery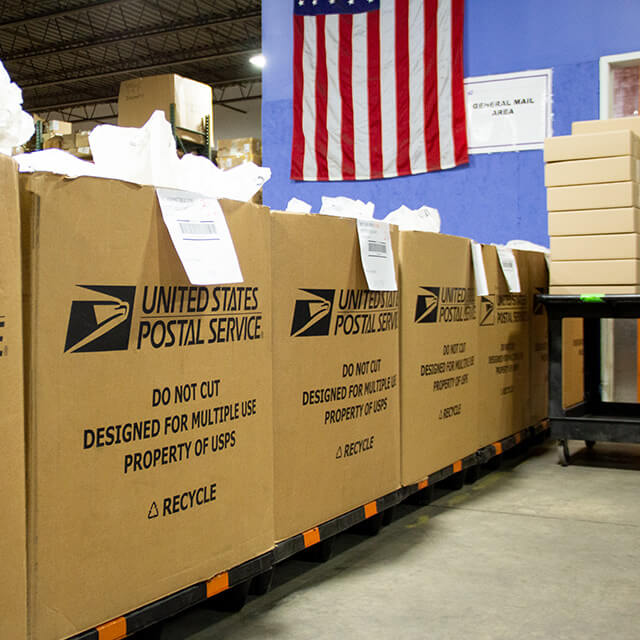 We're a volume shipper, moving massive amounts of mail with USPS and large quantities of freight with the major carriers every day. That means we have the insight and the high-level access at UPS, FedEx and the United States Postal Service to ensure your items reach their destinations on time.
The Wolff/SMG Difference
Fast, Accurate Quotes: Provided as needed for your budgeting purposes, for USPS, LTL, FedEx and UPS
Established Schedules: We ship all orders according to the agreed-upon schedule, regardless of carrier, and we expedite them appropriately
Pick-ups and Deliveries: There are multiple every day, so your order are never delayed in transit to us or en route to their destination
Same-day Shipping: Available as needed!
When there's no room for delivery delays or errors, you can rely on our experience & expertise to ensure prompt packing and timely delivery of your shipments.
Contact us today to see what we can do for you.
Meticulous Quality Control
Our proactive and detail-focused quality assurance team performs regular inspections across the fulfillment operation to ensure the highest degree of accuracy from start to finish. Our responsibility doesn't end when your shipment leaves our dock, though; we take pride in our ability to preserve pristine aesthetic presentations from departure to final delivery.
Wolff/SMG quality control activities include checks of the following
▪ Accurate labeling & personalization
▪ Correct items & quantities in each pick-n-pack
▪ Appropriate sack counts per shipping regulations
▪ Protective packaging to prevent damage
▪ Supervision & spot checks by an experienced operations team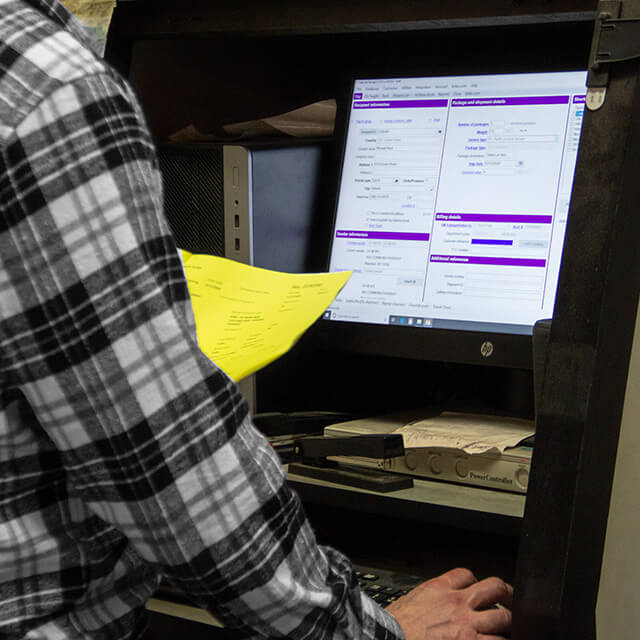 Our rigorous quality assurance processes deliver accurate fulfillment and timely delivery, from picking to packing to packaging.
Contact us today to see what we can do for you.
Superior Warehousing & Inventory Management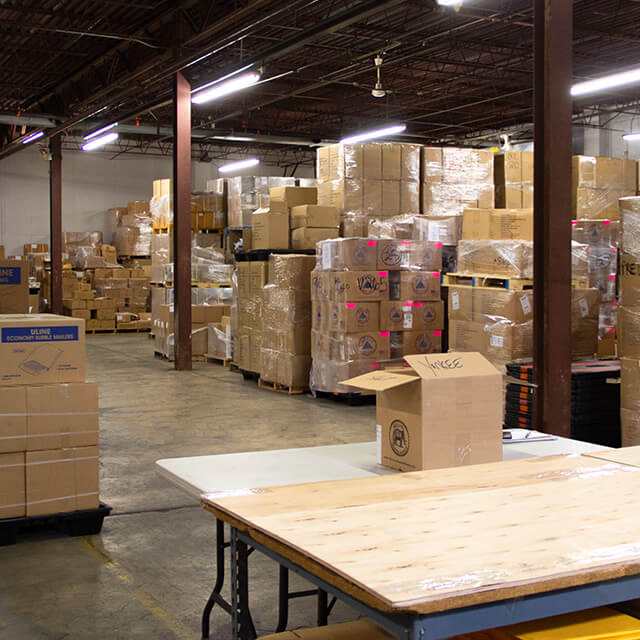 Our state-of-the-art facility offers a bright and secure environment, staffed by experienced professionals who handle your inventory as they'd handle their own, with detailed reporting and tracking from initial receipt to final disposition.
The Wolff/SMG Difference
Advanced Technology: Real-time activity tracking & legacy information, receiving & shipping data, pallet locations, client-determined low limits, and more
Secure Inventory Storage: Racked storage, gravity flow and dense-pack inventory platforms provide optimum space utilization, increased picking accuracy, and improved fulfillment efficiency
Safety & Security: Motion sensors, cameras, limited-access areas, HVAC climate control with air handler and sprinklers throughout our warehouse; backup/disaster recovery facilities in close proximity
Experienced Staff: Full-time team of materials-handling and fulfillment-support experts
Full-Catalog Support
With more than 40 years of experience in inventory management, order processing, fulfillment, shipping, and proactive involvement in each client's requirements, Wolff/SMG is the right choice to support catalog fulfillment and ecommerce business development for growing businesses of any size.
We save our clients from hassles and headaches with our full-service and reliable inventory management enhancements.
Contact us today to see what we can do for you.
We provided detailed standard and customizable reporting on every aspect of our ecommerce and product fulfillment process, so you can easily track and measure your return on investment. It's as critical to our success as it is to yours.
Customizable reporting available includes:
▪ Daily, weekly, standard, custom & as-needed
▪ Skids of inventory reported monthly
▪ Precise on-time receiving reports
▪ Usage & activity summaries
▪ Automatic low-limit notices
▪ Detailed tracking & legacy histories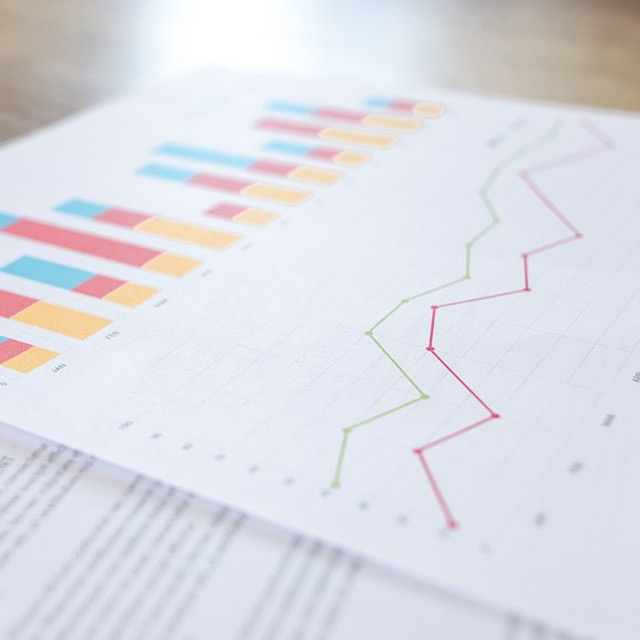 We're firmly focused on accurate management, measurement & reporting so we can provide the data access you need, when you need it.
Contact us today to see what we can do for you.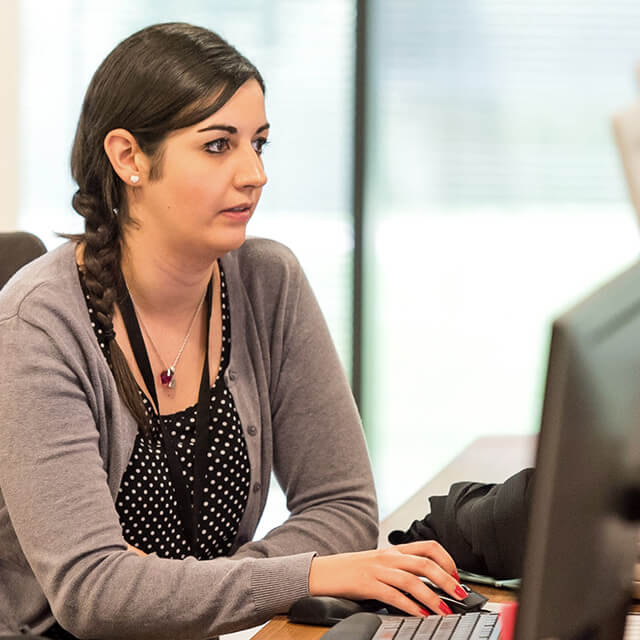 Our customer service/operations center handles inbound and outbound calls from customers around the world and across multiple industries, so our teleservices priorities are always customer support & client satisfaction. We strive to provide the highest level of service to every customer, on every call.
The Wolff/SMG Difference
Always Available, Always Accessible: In-house live operators available via phone, email, online chat and mobile/SMS
Comprehensive Customer Support: Services include order fulfillment, credit card processing, lead generation, database management & more
Proactive & Dedicated: Our CSRs acquaint themselves with your business so thoroughly that they're able to provide actionable recommendations on process improvements and cost savings
Accurate Reporting & Analysis: Available as needed, and delivered promptly
On the Record: Calls are recorded for training, reference and legacy requirements
In today's immediate-gratification, never-on-hold world, providing only the best customer service is key to maintaining a loyal consumer base. Wolff's complete teleservices support ensures just that.
Contact us today to see what we can do for you.
Ecommerce Platform Support
When it comes to product fulfillment, we're agency- and platform-agnostic. We'll work with your existing vendors, and integrate with your existing systems. However, we also have a longstanding partnership with an experienced development group that specializes in ecommerce. These people know what they're doing, and how to do it best for you. So whatever your ecommerce platform needs, we've got you covered.
Access specialized skills through this Wolff/SMG partnership:
Platform Knowledge: Extensive experience building, customizing and managing ecommerce stores in three of the most widely used platforms: Magento, Shopify and WooCommerce
Proficiency & Skill: The team has the knowledge and technical know-how to work successfully with virtually any platform
Proven Expertise: Easy and user-friendly order management access, from customized notifications and shipping options to seamless order processing & fulfillment
Payment Processing Options: Streamlined with your merchant number for the most timely payments back to you, or use our merchant number
Teleservices: Available when and if needed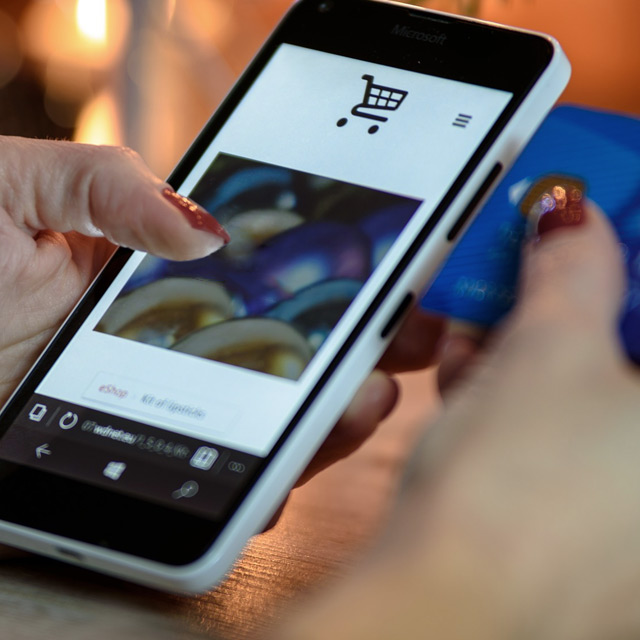 To get—and stay—ahead in the "order it today, get it tomorrow" world of ecommerce and online order fulfillment, you need an experienced partner to facilitate the process—quickly, reliably, and cost-effectively.
Contact us today to see what we can do for you.
Ready to take your ecommerce/catalog fulfillment operations to the next level?
Get a free consultation & see how Wolff/SMG will deliver for you.